FOUR DAY FORECASTS
PANORAMA of the FOUR DAY FORECAST
2007
Goddard de Fiddes
Perth WA
FOUR-DAY FORECASTS
2007
84 units, each 80 x 24 cm
oil on canvas
The Weather page of the Australian newspaper, between 1 January 2004 and 31 August 2007, offered nine kinds of weather in a four day format for the eight capital cities of Australia.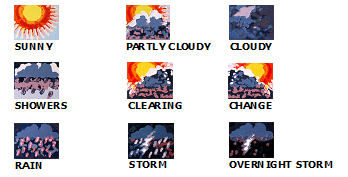 Any day could theoretically have had any one of these nine forecasts so for four consecutive days there were 6,561 possible Four Day Forecasts and a system of classification was devised (
The Classification of the Four Day Forecast
). 1,042 unique forecasts were collected, of which eighty-four were selected to paint.